Forex trading franchise Libertex
Opportunity details
Type
Franchise

Cash Required

The cash required is the amount of cash you have available or that you can access without referring to a traditional loan (family loans, stock, retirement plans, etc).

5000

Total Investment

The total investment is the total expected spending amount to start their business. This includes the franchise fee and other spending fees such as real estate, staffing, and supplies.

10 000 - 50 000USD
Native Country
Cyprus and Montenegro

Available Locations

The available locations for franchising are the territories or regions the franchisor is looking to develop.

Middle East
| | |
| --- | --- |
| Total Units (Worldwide) | 50 |
| Year Founded | 1997 |
Forex trading franchise Libertex
Start your forex trading business with Libertex group franchise program. Become part of a company with 24 years of experience, working in 110 countries of the world. We invite you to grow sustainably together with us.
Operating since 1997, Libertex Group, is an international, trustworthy brand with more than 20 years of financial market and online-trading experience. More than 1000 employees are serving  Libertex clients in over 110 countries around the globe, and have received 50 international awards. Each Libertex client is treated with special care and offered a variety of high-speed, reliable, cutting edge technology platforms to choose from. Libertex is a powerful online trading app designed to boost your trading experience.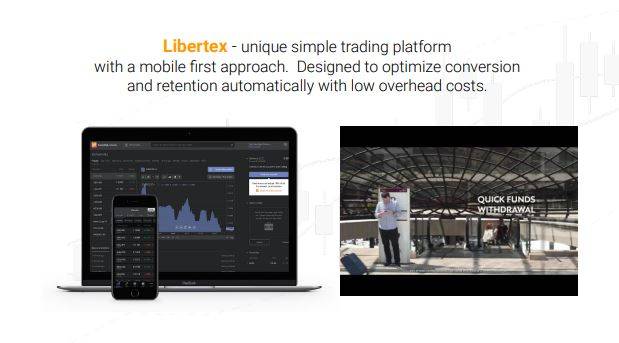 Libertex Franchise implies opening a representation office in a specified city or region. The aim of this office is to provide support, education and motivation to traders – existing and new clients of our company. Libertex provides franchisee with all marketing materials and marketing support, as well as organic lead flow and education for staff.  
We see full fledged partners in our franchisees. That is why, in comparison with other franchises, Libertex provides its partners with more instruments and opportunities, as well as makes commitments to address mutual challenges.
Advantages of our franchise are:
One of the oldest forex brokers;

30 USD franchise fee;

No royalty payments; 

More than 250 trading instruments;

Company shares revenue with franchisee;

Company shares marketing costs with franchisee;

Company shares 11 points of support costs with franchisee;

Education programs for staff and management;

Wide selection of promo-materials;

World-known brand.
Requirements to buy a franchise :
Office availability;

Registered company;

5000 usd deposit;

Meet Libertex Expectations (Our company also invests in the project and takes risks)

  
SUCCESS STORY!
Libertex already opened 35 franchises worldwide.

The company provides education to franchisees and their staff.

Libertex provides franchisees with organic leads and marketing support.