Ripe Tomato Pizzeria
Opportunity details
Type
Franchise

Cash Required

The cash required is the amount of cash you have available or that you can access without referring to a traditional loan (family loans, stock, retirement plans, etc).

1000000

Total Investment

The total investment is the total expected spending amount to start their business. This includes the franchise fee and other spending fees such as real estate, staffing, and supplies.

$200,000 to $500,000
Native Country
Canada

Available Locations

The available locations for franchising are the territories or regions the franchisor is looking to develop.

Saudi Arabia, Oman, Abu Dhabi, Dubai, Qatar, Bahrain
| | |
| --- | --- |
| Total Units (Worldwide) | 5 |
| Year Founded | 2012 |
Ripe Tomato Pizzeria
Ripe Tomato Pizza delivers a unique brand experience. Fresh Neapolitan Pizza from Italy fired up in our hip and happening ristorante! #jointheripehype
We are a pizza brand like no other! Serving real tasting Neapolitan Pizza for our guests is just
the start to how we WOW our franchisees.

We offer a better and healthier alternative to the conventional quick serve pizza. Our pizza is
topped with the freshest ingredients served hot, fresh and absolutely delicious out of our
specialty Forno oven.
OUR MISSION:
To Fire Up The Best Delizioso Neapolitan Pizza From Italy In A Hip & Happening Ristorante Where YOU Are Our OSPITE!
THE RIPE DICTIONARY... FOR US NON-ITALIANS:
DELIZIOSO:
This is our delicious handmade pizza
RESTORANTE:
The place where our experience comes to life. Aka…our restaurant!
OSPITE:
You our Guest!
Our story isn't as romantic as Italy but our love for Neapolitan Pizza is! 
In 2012, a group of your Canadians embarked on a journey to bring authentic Italian Neapolitan pizza to Canada. After countless hours in Italy… flour testing, dough kneading and taste testing. The result was the mouthwatering, beautifully simple and delicious Neapolitan pizza topped with the freshest ingredients all fired up in our specialty Forno oven!
BUT, our story doesn't end there! Along came a Canadian woman who joined our team. Together we're spreading our Ripe franchise love story around the world! 
Originated from Naples, Neapolitan pizza is known for its soft crust that bubbles and is charred
in just the right spots! 
Our signature dough is made fresh daily with flour imported from Naples to create an
extraordinary light and soft crust.
Our pizzas are cooked to perfection in our fire breathing real Italian Forno oven! Our guests can select from one of our Chef designed Ripe Favorites or design their own pizza with the freshest toppings of their choice!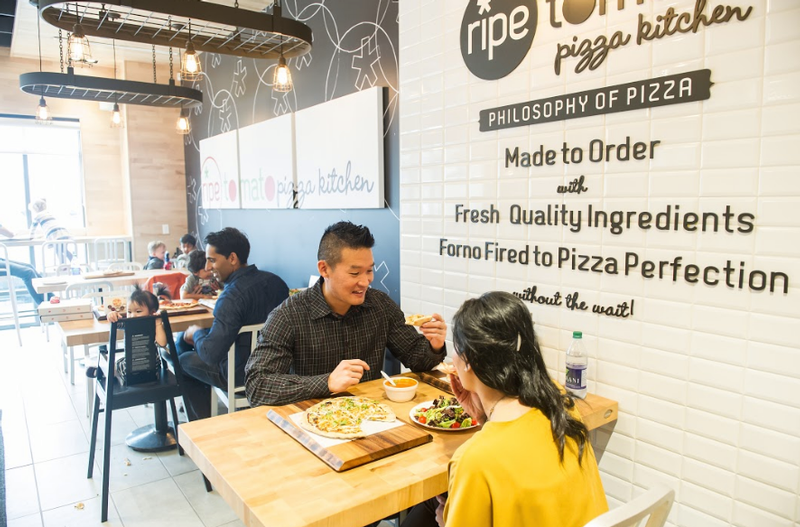 Our menu doesn't stop at Pizza, we have something for everyone including Pastas, Salads, Piadina sandwiches, desserts and even Kids Meals. 
We have mastered Full Service in a Quick Serve environment giving us the ability to serve fresh Italian favourites without the wait time and deliver an experience to our Guests like no other!
Each location is modern and built unique to its city and neighborhood and includes includes Street and Food Court locations with opportunity to launch Hotel and Gas Station footprints. Our scalable franchise concept has allowed expansion internationally. 
We now welcome Master Franchisee applicants worldwide!
Our Franchise Model Offers:
• Industry leading training and world class support to teach you everything required to
deliver Franchise Partners that are profitable, experience delivering, operations and
business experts
• Locations built with personality for high volume, fast service and impeccable experience.
• Access to approved partners, suppliers and vendors with negotiated competitive pricing.
• Multiple revenue streams
• A dynamic Marketing Team that delivers explosive marketing strategies, all positioned
to make you a #Ripe success story.
• An opportunity to adapt the menu to make it Ripe ready for your city and country.
• Below average start-up costs
• An Executive Team with decades of experience dedicated to your success.